I mentioned that we were in Pittsburgh recently; I want to tell you all a story about something that happened there that has been boggling my mind. I made reservations for dinner for the 4 of us, my mom, me, and my 2 kids at Seviche [update May 2018 Sadly Seviche is now closed so I have no link for you], a restaurant that I found on a local Pittsburgh medium for the top 25 restaurants in the city. It specializes in Latin seviche and tapas plates, and was absolutely outstanding. I love seviche (also sometimes spelled ceviche), so I was in heaven.  The dishes were fresh, creative, and we did not order a single dish I did not love.
Anyway, rewind though to when we were leaving the hotel and asking at the front desk about transportation possibilities. The clerk came back and, unasked, advised me that her manager had said my kids would not like Seviche. Huh. So then we got into the shuttle, where the driver also expresses surprise that I would take my kids there. By now I am getting nervous-is it a dangerous dive? Is it full of drunken carousing? Is it a well known spot for drug deals?
When we get to the restaurant, its interior is lively, with what sounds to me like Cuban music playing and lots of people chatting while they eat (and the restaurant is full–clearly the adults of Pittsburgh know good food when they see it). The decor is colorful in a funky, upscale kind of way. I immediately ask the maitre'd if it is inappropriate for my kids to be there. He confesses that they very rarely see children but assures me that they will be safe. When he seats us he tells us, kind of hesitantly, that although there is nothing specific, he is pretty sure the chef can fry some fish sticks up for us. I stare at him blankly until I realize he is talking about my kids.
Wow. I mean I know I feed my kids a bit more exotically than your average cooking parent, but still.  I assured him no, my kids would be fine, and he took our order (all of this politely, I am not faulting the waiter at all).  This place served a vegetarian black bean tostada and a shredded chicken one as well and while I confess we ordered neither, what kid would not eat those? When we ordered the tropical fruit seviche with scallops, I took one bite, got distracted by the traditional tuna seviche, and when I looked back at the scallops they were gone. And my mom does not eat scallops, so it was all Sammy and Alex. Sammy slurped the raw oyster right off the shell and liked it quite a bit.
But it is not about what my kids will eat, what it is about is how sadly low our expectations for all children have fallen.  To the extent that 2 random strangers felt compelled to warn me my kids would not eat "that food" (even though, in at least 1 of the cases, the person loved the restaurant)!   Trust me, if you expose your kids to these foods, they will scarf them right up.  After all, what do you think the children from those other countries eat?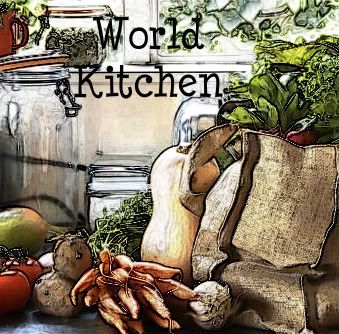 Which is where this fabulous new project by myself and Amanda of MarocMama comes in. We were discussing what a shame it was more people were not comfortable trying to cook international dishes-the same international dishes they regularly order and eat in a restaurant-and it gave us the idea. What if we chose a dish on a monthly basis and then all cooked it on the same day, tweeting live about the experience as we cooked? It gives less secure people a chance to ask questions about anything that gives them problems (and ultimately we hope to have experts or at least experienced cooks tweeting as well for any given dish), it gives us a chance to compare and contrast our results live as they happen, and most importantly it becomes, through the frankly amazing power of the Internet, a collaborative cooking experience. So head on over to World Kitchen and check out what we're cooking. The first dish will be paella and we'll be cooking on Sunday April 17, starting at 1pm EST (don't fret if you're on the west coast-we'll be tweeting all evening), tweeting with the hashtag #worldkitchen. I am especially happy with the recipe we found as I think it provides lots of flexibility for people with different dietary restrictions.  And hey if you want grab the badge on the right and spread the word!